About
Grades Taught
Grades 7 - 12
Introduction
Grand Trunk High School is located in Evansburg, Alberta, which is approximately one hour west of Edmonton and located just off of the Yellowhead Highway with approximately 230 students in Grades 7 to 12, both in traditional and distance learning.
Administration
Supply Lists
Programs and Services
Programs Offered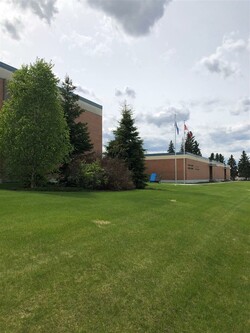 Grand Trunk High School is proud to offer a variety of curricular and extra-curricular programming to all of its students. Grand Trunk has a dedicated teaching and support staff to make every student's day memorable and successful. A variety of program and extra-curricular activities satisfy a variety of student interests and are an important component of a school delivering curriculum for grades 7 to 12. For athletically interested students, GTHS has a rich history of divisional and provincial success in both junior and senior boys and girls' volleyball, basketball, badminton and track and field. The school offers industrial arts (construction and fabrication) and foods, where all three of these option classes are in high demand both for the junior and senior classes; cosmetology; work experience opportunities; and fine arts (such as drama and art). Unique to Grand Trunk High School is a highly popular and successful rock band music program where students learn to play guitars, bass, keyboards and drums and to record some of their own music. Students that participate in the music program also may have the opportunity to travel to other schools or venues to perform before an audience where they can showcase their talents.